Cross Stitch Designs | Charted Needlepoint Designs | Quilt and Sewing Designs | Other Designs | Where to Buy | Home
---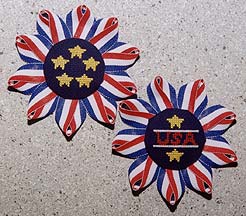 2003 Limited Edition
Patriotic Pins Kit

This limited edition kit introduced at Nashville Market 2003
contains all the floss, aida fabric, button covers, and ribbon
necessary to complete both pins. This kit is limited to 60
and once they are gone, will not be available again.
Get it while you can!
---
Contact Us
Oak Hill Designs sells patterns to retail stores only. You can contact us in one of several ways:
By phone: 1-507-356-8211 or 1-866-221-4481 - Store Orders Only
By postal mail: Oak Hill Designs, 12019 County Road 113 NW, Pine Island, Minnesota 55963
By e-mail: oakhilldesigns@bizland.com
---
Copyright © 2002-2003 Oak Hill Designs