Cross Stitch Designs | Charted Needlepoint Designs | Quilt and Sewing Designs | Other Designs | Where to Buy | Home
---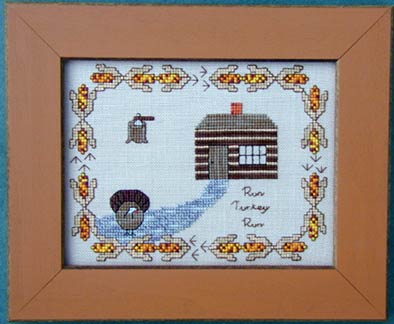 Pattern B5
Turkey Trot

A potential Thanksgiving dinner is a little too close for comfort.
He'd better run before the cabin's owner sees him.
This design is stitched with Weeks Dye Works and DMC floss.
The frame is from East Side Mouldings and is 5 x 6 1/2 - 2100PM.
---
Contact Us
Oak Hill Designs sells patterns to retail stores only. You can contact us in one of several ways:
By phone: 1-507-356-8211 or 1-866-221-4481 - Store Orders Only
By postal mail: Oak Hill Designs, 12019 County Road 113 NW, Pine Island, Minnesota 55963
By e-mail: oakhilldesigns@bizland.com
---
Copyright © 2001 Oak Hill Designs