Cross Stitch Designs | Charted Needlepoint Designs | Quilt and Sewing Designs | Other Designs | Where to Buy | Home
---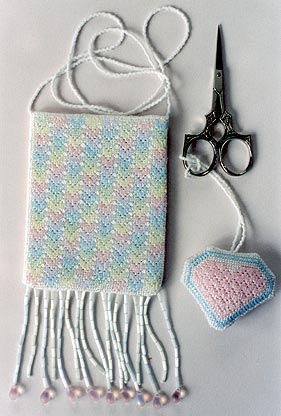 Pattern D3
Fringed Hearts Set

This charted needlepoint set is stitched on 18 ct. mono canvas
using Rainbow Gallery's Crystal Braid and Elegance threads.
The amulet pouch has a fringe treatment along the bottom edge.
Both the pouch and the scissors fob have beaded hangers. All
beads and complete finishing instructions are included with the chart.
---
Contact Us
Oak Hill Designs sells patterns to retail stores only. You can contact us in one of several ways:
By phone: 1-507-356-8211 or 1-866-221-4481 - Store Orders Only
By postal mail: Oak Hill Designs, 12019 County Road 113 NW, Pine Island, Minnesota 55963
By e-mail: oakhilldesigns@bizland.com
---
Copyright © 2004 Oak Hill Designs